I don't save very many catalogs these days, since it's so easy to see things online. But, ever since high school, I have loved studying every nook and cranny of a J.Crew catalog (or Style Guide, as it's now called). Those people know what they're doing. They have a way of making a very simple piece of clothing look cool and interesting and current. So, after browsing the latest issue, I hopped on the website to read up on a cute wool sweater I'd spied, and I happened upon this: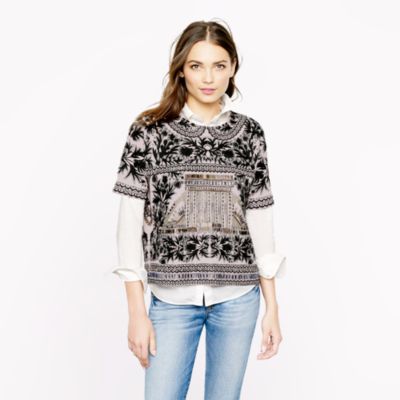 "Very cute," I thought. And...$998?!?! NINE hundred something. Nine.
I have seen very expensive clothes before. I have seen tops that cost far more than this one, but I always think of J.Crew as a place with good quality merchandise that is wearable, on-trend, and relatively affordable. Right? Of course, their "Collection" line (of which this t-shirt is a part) is more expensive, but more like in the $300-400 range.
J.Crew's description of the top reads:
"Our in-house beading specialist's vision for the embellishment of this design required more than 35,000 crystals, sequins, beads and paillettes. Each one was carefully applied by hand, a meticulous process that took more than three days to complete. Finished with hand-sewn silk embroidery, it's truly a have-forever favorite."
I don't disagree that it's a stunning top or that it was labor-intensive to produce. I don't even necessarily disagree that it's "worth" $1000. It's not worth it to me, but something's worth depends on lots of factors, both external and internal. My beef is that I think J.Crew is confused about its clientele. I don't think people who shop at J.Crew are willing to pay $1000 for a shirt. Another way of looking at it--I don't think people in the market for a $1000 t-shirt shop at J.Crew (at least, not for said shirt).
What do you think? Will it sell out immediately, or can we expect to see it lingering in their sale room? It turns out there's lots of buzz about this shirt, so who knows. Like I said, those people know what they're doing!
Perhaps I'll purchase one of these, instead:
Romeo & Juliet Couture at Bluefly - $103.20
Marchesa at Saks - $350
Tracy Reese on Amazon - $51.58
Or even: