I'm a model. Isn't it obvious? No? Well, nevertheless, I was thrilled when Caroline Berggman of
Posh PR
asked me to model in a pop-up fashion show as part of
Stony Point Fashion Park
's community outreach. This show, which was held at the
Country Club of Virginia
, was just one in a series of shows modeling the latest fashions and trends from Stony Point's retail stores. The looks featured at this particular show were from
Cynthia Steele
,
Tiffany and Co.
, and
Anthropologie
. I got to wear
this gorgeous Anthro party dress
!
While I wanted to tackle all of the models and steal their looks, there was one look, in particular, that caught my eye. The
Garden Glimmer Skirt
(sold out for now):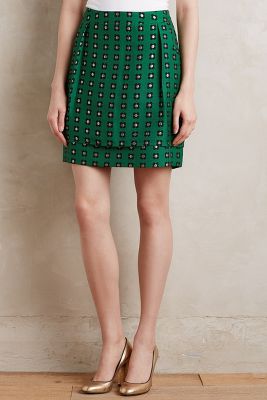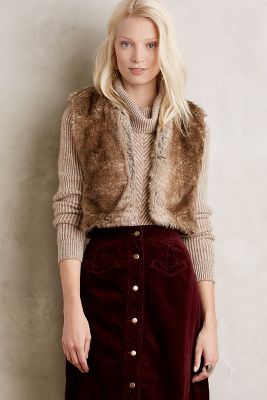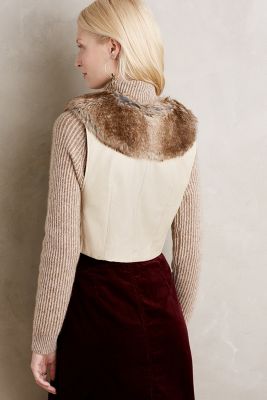 I really love the back of this vest, which sets it apart from so many fur vests we're seeing this year. I felt like this look was youthful, but age-appropriate, and it just felt like "me." So...
I got it! I had tried the vest a couple of times, but I never wanted to take the plunge. Paired with this skirt (and knowing I could use it for a ton of other looks), I decided it was worth it. The skirt, thankfully, was part of Anthropologie's big post-Christmas sale. They had one left in the Stony Point store, in my size! The colors and material make it a year-round skirt, and I'm already thinking of ways I can wear it when the weather warms up.
I really love this whole look, but I need your help. Do you like it better with the black sweater untucked (like above), or tucked in?
Let me know in the comments below.
As a personal stylist in Richmond, VA, I strive to make wardrobe choices clear and easy for women who are short on time, overwhelmed by their closets, or transitioning from one period of life to another. Let's connect!